Dose of Reality
I recently joined ICC and have been playing some games when time allows.  I've been doing pretty well lately and so yesterday when the opportunity came up to join a simultaneous event with IM Milanovic Vojislav I thought "why not".  Well it turned out to be a pretty healthy reality check and a reminder that I need a lot of work to be where I want.  At any rate here's the game…
voja (2411)    —    Cicindelinae (1835)
ICS unrated standard match  (-)   chessclub.com
2012.12.08     1-0     B03d

1.e4 Nf6 2.e5 Nd5 3.d4 d6 4.Bc4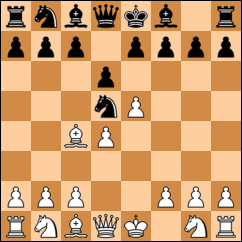 White chooses an aggressive minor variation. 4.Nf3 and 4.c4 are more common.
4…Nb6 5.Bb3 dxe5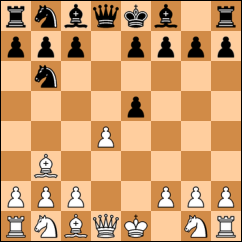 ( 5…Bf5 This is an interesting option and White now has an interesting pawn sacrifice. 6.e6 Bxe6 ( 6…fxe6 Should also be playable, but I cannot find any games. ) 7.Bxe6 fxe6 8.Nf3 Nc6 9.O-O g6 10.Ng5 Qd7 11.Re1 Nd8 12.Qd3 Bh6 13.Nc3 Bxg5 14.Bxg5 Nf7 15.Bh4 O-O-O 16.a4 c6 17.a5 Na8 18.b4 Nc7 19.Rab1 Rdf8 20.b5 cxb5 21.Nxb5 Nxb5 22.Rxb5 Nd8 23.c4 Rf5 24.d5 Rhf8 25.Bg3 exd5 26.cxd5 Kb8 27.a6 b6 28.Reb1 Nf7 29.Qb3 Ka8 30.f3 Ne5 31.Rb4 Rc8 32.Bf2 Qc7 33.h3 Nd7 1/2-1/2 Nun, Ji (2380) – Konopka, M (2433) / 5th Highlands Open A (9), Zdar nad Sazavou CZE 2008 )
6.Qh5 e6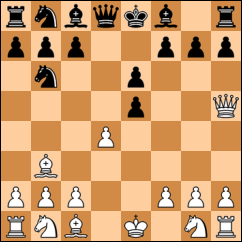 ( 6…g6 7.Qxe5 f6 I briefly considered this continuation, but I think it leaves Black with too many issues to deal with. )
7.dxe5 a5 8.a4 Nc6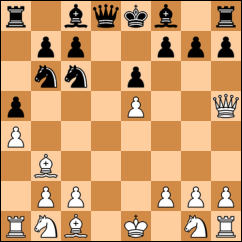 ( 8…Na6 Given the difficulties I had in my game, the way Black developed here is certainly interesting. 9.Nf3 Nc5 10.Ba2 Bd7 11.b3 Bc6 12.Nbd2 Nd5 13.O-O g6 14.Qg4 Nc3 15.Bb2 h5 16.Qc4 Nxa2 17.Rxa2 Qd5 18.Qxd5 Bxd5 19.Raa1 Be7 20.Nd4 b6 21.Nb5 O-O-O 22.Rad1 Rd7 23.Nc3 Rhd8 24.Ndb1 Bc6 25.Rxd7 Nxd7 26.Nd1 Be4 27.Ne3 g5 28.Nd2 Bg6 29.Ndc4 Bc5 30.Rd1 Nb8 31.Rxd8+ Kxd8 32.Kf1 Nc6 33.Ke2 Kd7 34.Kd1 Nb4 35.Kd2 Kc6 36.h3 Nd5 37.Nd1 Nf4 38.Nde3 Be4 39.f3 Bd5 40.Ke1 Bxc4 41.Nxc4 Nxg2+ 42.Kf1 Nf4 43.Bc1 Nxh3 44.Kg2 Nf4+ 45.Bxf4 gxf4 46.Nb2 Kd5 47.Nd3 Kd4 48.Nxf4 Kxe5 49.Nxh5 Kd4 50.Ng3 Kc3 51.Ne4+ Kxc2 52.Ng5 Kxb3 53.Nxf7 Kxa4 0-1 Magrini, R (2229) – Mrdja, M (2420) / Open A (3), Robecchetto ITA 2004 )
9.Nf3 Be7?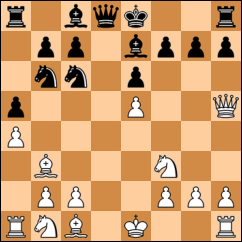 Hard to believe this innocent looking move could be my downfall, but from now on it becomes increasingly difficult to develop due to a pressing lack of space. White does an excellent job of slowly and methodically applying the pressure.
( 9…Nd7 Is a much more promising move for Black. 10.Bxe6 ( 10.Bf4 g6 11.Qh3 Bg7 12.Bg5 Ne7 13.Nc3 h6 14.Bf4 Nc5 15.Rd1 Bd7 16.O-O Nd5 17.Bc1 Qe7 18.Rfe1 Nxc3 19.bxc3 Nxa4 20.Qg4 Nb6 1/2-1/2 Hamperl, F (2027) – Vickery, J (2155) / 32nd Guernsey Chess Festival (5), Grand Harve Bay GCI 2006 ) 10…Ndxe5 11.Nxe5 Bxe6 12.Nxc6 bxc6 13.O-O Qd5 14.Qh4 Qf5 15.Na3 Bd6 16.Be3 Rb8 17.Nc4 Be7 18.Qd4 Rb4 19.b3 O-O 20.Qe5 Qg6 21.Qxc7 Bd5 22.f3 Bxc4 23.bxc4 Bd8 24.Qf4 Qxc2 25.Rac1 Qxa4 26.Kh1 Bb6 27.Bd2 Rb3 28.Qe5 Bd8 29.Bc3 Bf6 30.Qxa5 Qxa5 31.Bxa5 h5 32.Rb1 Rfb8 33.Rxb3 Rxb3 34.g3 Rb2 35.Rc1 Rf2 36.f4 Bd4 37.Rd1 c5 38.Rd2 Rf1+ 39.Kg2 Rc1 40.Kf3 Rxc4 41.Rd3 Ra4 42.Bb6 Rb4 43.Bc7 Rb2 44.h3 f5 45.g4 fxg4+ 46.hxg4 h4 47.Ke4 Re2+ 48.Kf5 Kf7 49.g5 g6+ 50.Kg4 Ke6 51.Kxh4 Kf5 52.Kg3 Ke4 53.Rd1 c4 54.Rc1 c3 55.Bd8 c2 56.Bf6 Be3 0-1 Holusova, T (2153) – Chytilek, R (2418) / IMA (9), Brno CZE 2004 )
10.Nc3 Nd5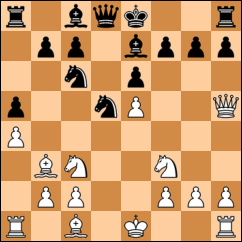 ( 10…O-O It's hard to castle in this position. Seems kind of like castling into a frying pan, but it might offer Black a little more of a fighting chance than in the game. 11.O-O Nb4 12.Rd1 N4d5 13.Ne4 Qe8 What we have is a similar position to the one that could have occured in the game, but the knight on d5 came from c6, not b6 so the light squared bishop has some hope to play. )
11.Ne4 h6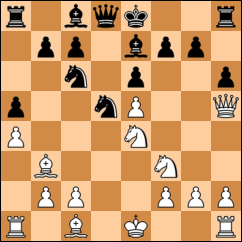 ( 11…O-O Is the similar position I mentioned in the last note. )
12.O-O Bd7 13.Rd1 Qc8 14.h4 Kf8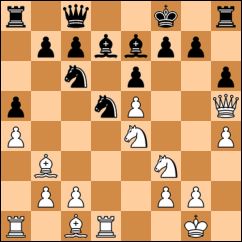 Castling didn't seem like a good option, but I needed to get out of the pin on my f pawn to try and get some counterplay.
15.Qg4 f5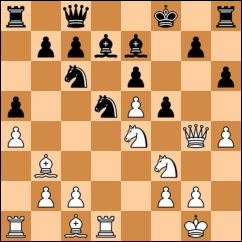 ( 15…Qe8 Looks like a better option. I was getting impatient and trying to find forceful moves, but really just weakened my position. )
16.exf6 gxf6??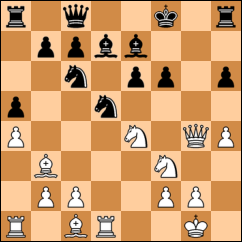 ( 16…Nxf6 Better, but still coming up short. 17.Nxf6 Bxf6 18.Be3 Bxb2 19.Bc5+ Kf7 20.Rab1 Bf6 Black has too many weak points and my pieces aren't cooperating very well at all. )
17.Qg6 Be8 18.Bxh6+ Rxh6 19.Qxh6+ Kg8 20.Rxd5 exd5??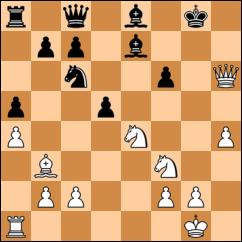 Oops. On the positive side though this puts me out of my mistery.
21.Bxd5+ Bf7 22.Qg6+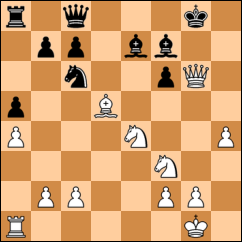 Cicindelinae resigns
1-0
As always please feel free to leave your comments, critiques, and suggestions.  I have several more annotated games/articles that are nearly finished so stay tuned.
Daniel