Gettin' Borged
The following game was played in a club clash between the Joplin and Springfield clubs.  One of the guys playing was pretty highly rated.  It's always exciting to get the chance to play opponents better than you, but it's also slightly intimidating.  The following game isn't the best example of play I've put forth, but it's instructive and interesting.
James Long (1972) – Daniel Todd (1668)
Club Quick Clash (Joplin vs Springfield), 1/22/2011
1.e4 g5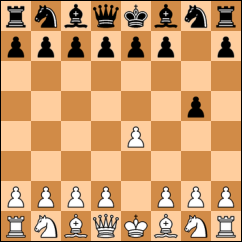 I remember smirking when he played this move.  It's something I would play and have on a few occasions in blitz or online correspondence games.  This is the Reversed Grob, Borg, or Basman Defense (named after IM Michael Basman who played, researched, and wrote about it) and against a prepared or sufficiently strong opponent you can find yourself facing an uphill battle.  But sprung against a weaker (i.e. Me) or unprepared (i.e. Me again) opponent, there is more than a bit of poison in it.  Not having the luxury of a lot of time to think and remember how to treat this opening, I did my best.
2.d4 h6 3.Ne2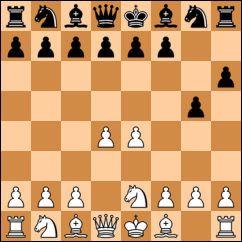 Apparently a novelty, though I think it's more likely the 200 some games I have with this opening in my database aren't exactly the most inclusive.  Basically I'm treating the Borg as if it's the Grob and playing a line that Andrew Martin gave on Jeremy Silman's website a number of years ago.  The idea is that h5 is weak and the knight swings from e7 to g6 to threaten the occupation of that square.  More direct is:  3.h4 gxh4 4.Rxh4 d5 5.exd5 e6 6.Rh5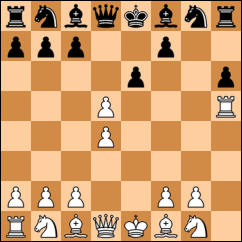 (6.Nf3 may be a little better as it develops a piece while protecting the rook and on h4 it's a little less exposed at the moment, but it's hard to fault one of the best attacking players of his time)
6…Nf6 7.dxe6 Bxe6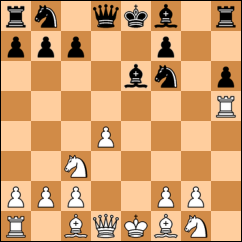 Can you spot why Black shouldn't take the rook on move 7? (A)
8.Nc3
The rook can also move 8.Rh4 when play might continue 8…Nc6 9.Nf3 Qe7 10.Bb5 Bc4+ (10…0-0-0 11.Bxc6 bxc6 12.Qe2 is good for White) 11.Nge2 Bxb5 12.Nxb5 0-0-0 and Black isn't doing bad at all.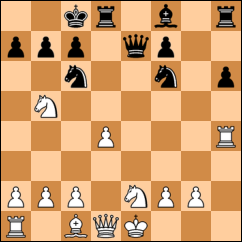 8…Nxh5 9.Qxh5 Bb4 10.Ne2 Nc6 11.Be3 Qd7 12.a3 Bg4 13.Qb5 a6 14.Qd3 Bxc3+ 15.Qxc3 O-O-O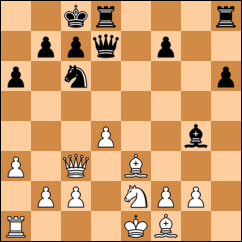 and Black went on to win in Speelman – Basman, 1980 0-1 (46).  You can play through the whole game at the end of the article.
3…Bg7 4.Ng3 Nf6 5.Bd3?!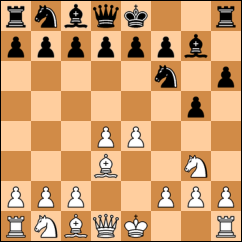 Now is where I started to waver.  Perhaps it was nerves, perhaps I was tired, perhaps the Borg juju was getting to me…I don't know, but I certainly rattled off a series of incongruent moves that didn't fit with my initial game plan.  If you have a game plan then stick to it, unless it absolutely leads to defeat.  Much better would have been either 5.e5 or 5.h4.  Of the two it seems 5.e5 is stronger.
I.) 5.e5 Ng8
Neither 5…Nd5 or 5…Nh7 offer Black sufficiently better prospects.  For example:  5…Nd5 6.Nh5 Bf8 7.h4 poses problems for Black that are going to be hard to deal with.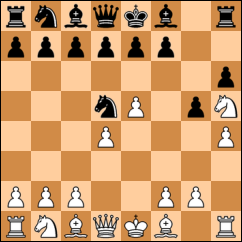 6.Nc3 Nc6 7.Bc4 e6 8.0-0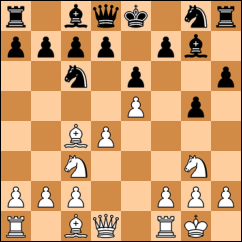 Leaves Black cramped without a suitable way to free himself.  Meanwhile White will just build up a steady attack until he either wins a material or Black is mated.
II.) 5.h4 gxh4
Attempts at counterattacking in the center are dealt with fairly easily by White.  For instance: 5…c5 6.hxg5 hxg5 7.Rxh8+ Bxh8 8.e5.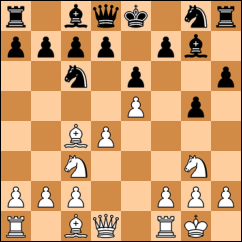 If the knight moves then the White queen comes to h5 with disastrous results and if it doesn't move White goes up a piece.
6.Rxh4 d6 Black must stop white from playing e5 if possible.  From this position White must be careful to not overdo it.  For example: 7.c4 Nc6 8.Nc3 e5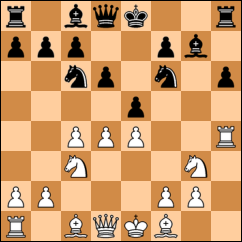 And Black is close to equal.  After 6…d6 I like 7.Be2 Nc6 8.Be3 e5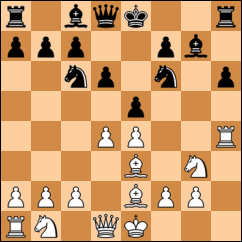 When it seems like White has the better prospects, but I wouldn't complain if I had Black's position either.
5…d6 6.f4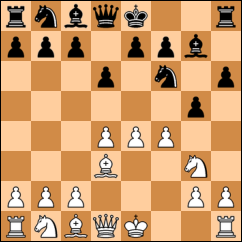 The last chance to correct my downhill slide, from here on out Black is at least equal and is operating with a clear game plan…me not so much.  6.0-0 or 6.h4 would have been better options.
6…gxf4 7.Bxf4 Nc6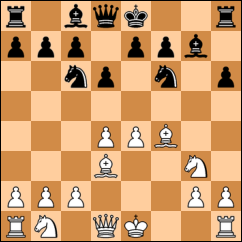 Because I blocked the queen from defending the d pawn, I now have to do something to protect this pawn.
8.c3
The computer recommends 8.d5, but opening the diagonal for Black's bishop and extending my center for Black to chip away at isn't the kind of thing I wanted to do.
8…e5 9.dxe5 dxe5 10.Be3 Bg4 11.Qc2 Nh5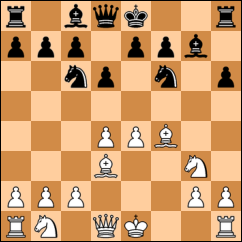 Better was 11…Qd7 12.0-0 0-0-0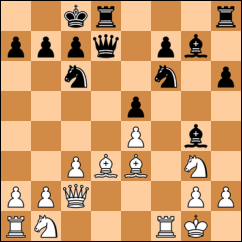 And despite the computer's assessment of even, Black is probably better off.  White has a definite target in the weak pawn on e4 and while it's true that Black has one on h6, he can potentially use that in an attack on the White kingside.
12.Ne2
Doh!  12.Nxh5 Bxh5 13.0-0 and White has some good looking options.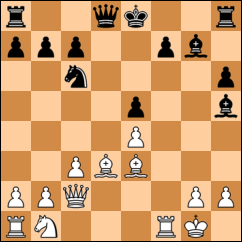 12…Qh4+ 13.g3 Qe7 14.h3?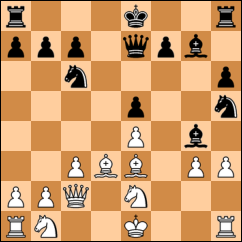 I don't recall, but I may have been running low on time.  14.Nd2 and White is still in it.
14…Bxe2 15.Bxe2 Nxg3
Simply winning a pawn.
16.Rg1 Nxe2 17.Rxg7??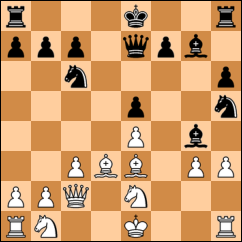 17.Qxe2 was called for, but after 17…Bf6 Black is in the driver's seat.  I'm including the finish of the game for completeness, but from this point on White is completely lost.
 17…Qf6 18.Rg4 h5 19.Rg2 Nf4 20.Bxf4 Qxf4 21.Nd2 Qh4+ 22.Ke2 Qxh3 23.Rf2 Qe6 24.b3 O-O-O 25.Raf1 Qg4+ 26.Ke1 Qg3 27.Ke2 h4 28.Rxf7 h3 29.R7f3 Qg4 0-1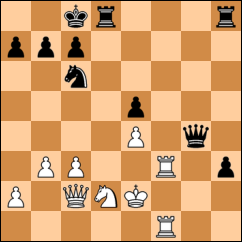 (A) If 7…Nxh5 8.exf7+ Kxf7 9.Qxh5+ and the Black king is horribly exposed.
Hope the game was entertaining and informative.  Going to get to work on my next post…